Solo
Solo is the world's first combination of LED light and multichannel stereo sound. Integrated with a JBL speaker system, Solo combines dual 3-watt speakers with modern LED lighting technology.


Sengled Solo
THE STAGE IS SET FOR A GLOWING SOLOIST:
Solo is the world's first combination of LED light and multichannel stereo sound. Integrated with a JBL speaker system, Solo combines dual 3-watt speakers with modern LED lighting technology. You can simply screw the bulb into your existing light and download our free app onto your smartphone or tablet. Instantly stream music from your mobile device wirelessly via Bluetooth and control the lighting with the flick of a finger. The main difference between this and the "big" Pulse: Solo always works as a soloist and so is ideally suited for use as a dimmable desk or bedside table lamp.
Available with E27 and B22 base!
Unpack, screw in, ready!
The Solo is immediately there for you. It emits a short acoustic signal as soon as it is activated. You can play your favourite music straight away – from any Bluetooth-compatible device and without additional software.
1. Unpack
The packaging contains your new Solo.

2. Switch off
Safety first. Set the light switch that supplies power to the light socket to "OFF".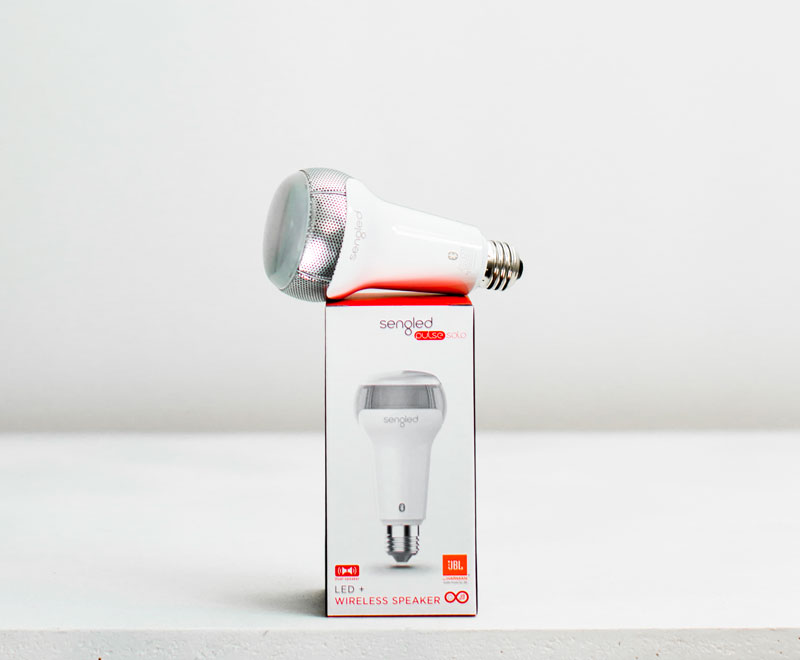 3. Screw in Solo
Screw your new smart lamp into the light socket.
4. Switch on
5. Install the app
Connect your mobile device by Bluetooth to the lamp. Now you can control all the functions using the Pulse app.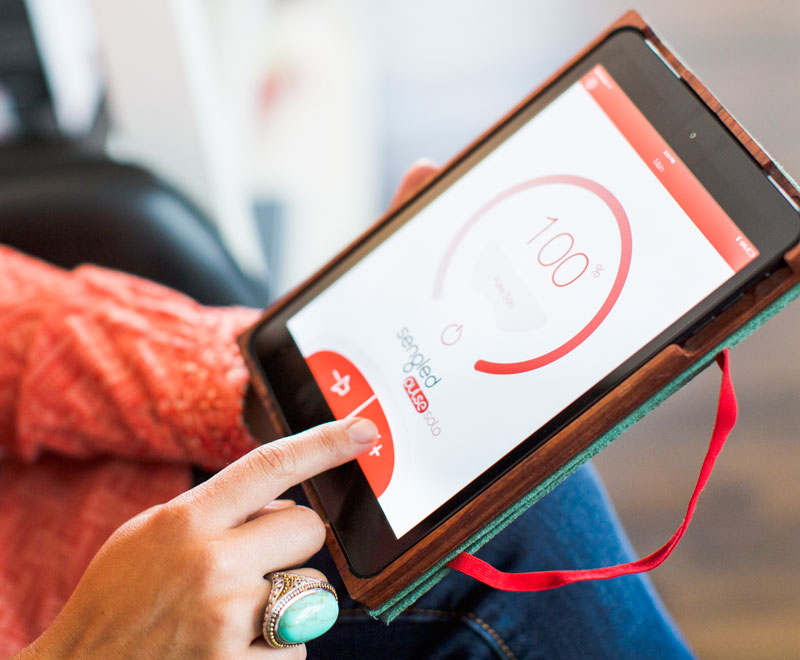 Solo App
The free Pulse app gives you complete control. You can use it to control light and sound from your mobile device at any time: Switch the light on and off, adjust the brightness and set the volume, just as you like it. You don't have to move from where you are. What could be more convenient?
Technical Data
Model number:
C01-A66EAE27/B22
Luminous flux:
550 lumens
Colour temperature:
2700 Kelvin – warm white
Colour-rendering index:
80
Dimmable:
yes, using an app, not through external dimmers
Energy supply:
100-240 V AC, 50 Hz
Energy consumption:
9,5 watts (average) / 12,5 watts (max., LED + speaker)
Operating temperature:
-20°C to +35°C
Humidity:
up to 85%, not suitable for environments with water spray or condensation
Loudspeaker power:
2x3 watts
Frequency response:
260 Hz to 18 kHz
Housing colour:
neutral white
Dimensions:
height 141,5 mm, diameter 72 mm
Bluetooth standard:
v3.0 + EDR and BLE 4.0
Bluetooth profiles:
A2DP, GAP, GATT and more
Bluetooth transmitting capacity:
4 dBm, range approx. 10 metres (with a direct line of sight with no restrictions)
Downloads
From tweeters to lumens, everything you need to know about your Solo bulbs is right here.
FAQ - Frequently Asked Questions
1. Is Solo suitable only for use in reading lamps or can it also be used as a ceiling lamp?
Solo fits into any E27 light socket, wherever it might be …
2. Are lamps available for other types of socket?
At the moment, we offer only an E27 version. A suitable adapter would allow Solo to be used in other light sockets, for example E14 or GU10.
3. Can I connect several Solo lamps together?
No, we offer our Sengled Pulse product for multi-room sound and for connecting several speaker lamps.
4. Will Solo work if it is shielded by a glass shade.
Generally, yes. It will work because the Bluetooth signal is only slightly weakened by the glass. Of course, sound would be heavily attenuated by an all-round lamp enclosure and this would naturally be noticeable in the sound quality.
5. How much light can I expect from Solo?
Solo emits up to 550 lumens. This is equivalent to the light output of a 45 watt incandescent light bulb.
6. Am I correct in thinking that Solo works only with Apple devices?
No, that's certainly not true! Solo works with all devices that support Bluetooth and for which the Pulse app is available. This applies to products with iOS operating systems and to smart phones and tablets with Android operating systems.
7. Can the LED light part of the lamp burn out like a traditional incandescent light bulb? If so, are the LEDs replaceable?
No, LEDs cannot be replaced because they are permanently fixed into the lamps. However, the LED lamp in Sengled Pulse is designed for an operating life of 25,000 hours. In typical conditions of use of about three hours per day, this equates to more than 22 years.
8. Does Solo also support WLAN (Wi-Fi) control?
No, the lamp connects to your mobile device only by Bluetooth.
9. If I switch off the light, can I continue to listen to music?
No problem, as long as you switch off the light using the app. Of course, if you use the light switch to do this, it will disconnect the power to the lamp. In that case, the sound also switches off.